Transform your travel advisor marketing.Supercharge their client engagements.
Approach Guides, the leading provider of multimedia destination content, has launched a new service that supercharges your travel advisors' marketing efforts: it transforms any video, image, brochure or promotion into a multimedia content experience that advisors can co-brand and share with clients to boost impact and conversion.
Advisors and brands love the service: Providing experiences rather than simply assets is transformative, providing a whole new model for B2B2C engagement.
Our Solution: Three Pillars

Content experiences, not assets
Instead of sharing assets (videos, brochures, etc) with advisors — which necessarily rely upon advisors to repurpose — share engaging multimedia "content experiences," quickly designed by you and optimized to sell your brand.
Invite advisors to automagically co-brand your content experiences with a single click and subsequently share it with their clients to boost conversion.
Track all shared experiences with our analytics, providing visibility into marketing activities across your travel advisor network.
A co-branded content experience, explained 1-2-3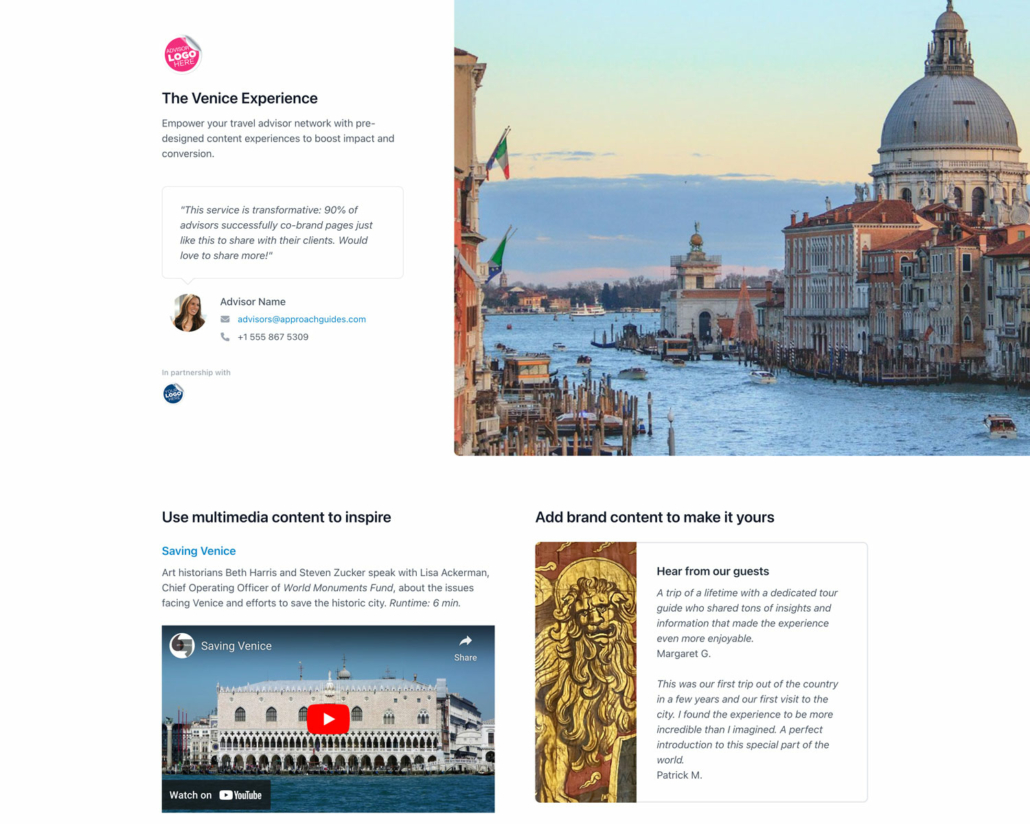 1
The advisor's name and contact information is automatically integrated into to the content experience. They can even add a personal message to further personalize it for their clients.
2
Your brand is discreetly added (as "In Partnership with") to each content experience, showcasing your trusted partnership with the advisor.
3
The content experiences can showcase any of your brand content and/or leverage content and images from Approach Guides' vast destination content library. You control the whole experience—the content featured, how it looks, even how it is engaged with—and the advisor can brand it as their own.